Dedicated to breeding beautiful, versatile, quality
Arabians, NSH & Pintos with
excellent dispositions.

Are you in someone else's frames?
Ride on out of there


Click to view photo gallery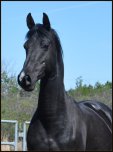 Mochachinno PWS
June 1, 2011 - CPAR #1A7681
Black tobiano 1/2 Arabian Mare
SCID/CA/LFS Clear
Genetically - aaEeTt




Tweet
Share page on Facebook







(AD Magnitude
x Absolute Striking Image DF
)
I am so impress by Mochachinno PWS who we lovingly call Spot. A HUGE thank you to Barry and Sil for leasing me Spot for breeding. Spot is an amazing moving mare with such flash and charisma. Spot and her mother Mocha will be bred in 2022. Spot will be bred to Dream Synsation





Production Record
Name
Color & Sex
Sire

Latte Mocchaito DF
2022 Bay Tobiano 3/4 Arabian filly

Dream Synsation
(EF Kingston x Symphony ofdreams)
Bay Arabian



Thank you for visiting Destiny Farm's site.