Dedicated to breeding beautiful, versatile, quality
Arabians, NSH & Pintos with
excellent dispositions.

Are you in someone else's frames?
Ride on out of there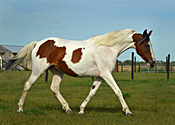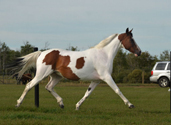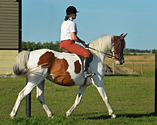 Rhythm N' Roses DF - CPAR, IAHA #1A351255, PtHA
April 17, 2003
Bay Tobiano 1/2 Arabian filly
Sweepstakes Nominated




Tweet
Share page on Facebook







(Rhythm N' Gold
x Canadian Red Rose

)
This is an awesome mare! She has tipped ears, big eyes, upright and HUGE! She is Sweepstakes Nominated and would be a top contender in halter, hunter, show hack and dressage. Sire is a Legacy of Gold son out of a homozygous tobiano, champion producing Sporthorse mare. Rosie is 16 hh

Rosies maternal siblings are doing very well in the show ring. Rosie's maternal sister is Born To Shyne DF, 2010 Canadian National 1/2 Arabian Res Champion Futurity filly and is very well at the Regional level as well.
Rosie's maternal brother is Camera Shy. He is 2012 Canadian national 1/2 Arabian Res Champion futurity gelding & Canadian National 1/2 Arabian SHIH Open Res Champion as well. Camera Shy also add 2 top 10 awards at the same Nationals.
Rosie has another brother that is 2012 Region 17 Unanimous Champion Sweepstakes 1/2 Arabian colt/gelding, Region 17 Champion Futurity 1/2 Arabian winner and Parkland Futurity 1/2 Arabian winner as well.
Watch for the newest foal for Canadian Red Rose, Moonshyne DF

Video available
Inquiries invited.
Aladdinn
Alada Baskin
Launa Basketu
Legacy of Gold
Fire Chief
Khatar Firesember
Zihala
Rhythm N' Gold
Fame VF
MFA Hullabaloo
Benraz Faantasy
Baloo Essence
Tsulybration
KO Tsasha
Regaloaksgalaneet
Triple A Halarr
FF Wildfire
Flames Beauty
Ice-T
CF Bey Solitaire
CAHR
CF Cochara
CAHR
Kochanah
CAHR
Canadian Red Rose
Canadian Exchange
APHA
Turn About
APHA
Poco Waresse
QH
CF Canadian Maid
Spy Line
TB
Spy Lines Salute
TB
Saralyn
TB



Thank you for visiting Destiny Farm's site.