Dedicated to breeding beautiful, versatile, quality
Arabians, NSH & Pintos with
excellent dispositions.

Are you in someone else's frames?
Ride on out of there



Dreamcatcher DF
Bay Arabian Filly - CAHR #42988
May 2, 2003
Sweepstakes Nominated



(Rhythm N' Gold
x Desperado's Dezirae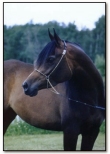 )
Dreamcatcher DF (aka Ali) has a solid body/bone. She has a full, working hip and beautifully shaped neck. Her face is classic with dark eyes. She has 30 days of saddle training. This is a mare that is completely unflappable and over-whelming eager to learn. She is ready to be molded into a great show and family horse! Dreamcatcher DF is a superb Ladies/Youth Western Pleasure and Trail prospect. She is Sweepstakes Nominated

Ali also has an awesome pedigree behind her great disposition and conformation.

DREAMCATCHER DF is a granddaughter of two very significant sires: U.S. National Champion Stallion LEGACY OF GOLD and DESPERADO V, both sires of National Champions in halter and performance.

Her sire RHYTHM N'GOLD died at age four and left just a handful of get but is very well bred. He is a paternal brother to National Champion in halter LEGACYS GOLD DUST+, to U.S. National Champion Junior Stallion and National winner sire LEGACY OF FAME, Canadian National Champion Stallion TR ALADA LEGACY, multi-National Champion Western Pleasure HF HALE-BOPP+/, twice U.S. Reserve National Champion Junior Mare AW FORTUNE NGOLD+, multi-National winner in hunt pleasure, English sidesaddle and sporthorse under saddle DOMINIC JCA++/, and multi-National Champion Hunter, Hunter Hack, Dressage, Sporthorse Under Saddle and Sporthorse Gelding DA DURADO++++// (who has 53 National titles).

RHYTHM N'GOLD is out of Region 8 Top Five Mare BALOO ESSENCE, who is closely related to Canadian Top Ten Reining AOTR 18-39 BALOO REFLECTION and multi National winner in halter, western sidesaddle and hunt pleasure BALOO ENCHANTRESS, who are both by her sire MFA HULLABALOO out of a granddaughter of BALOO ESSENCE's maternal grandsire TSULYBRATION. BALOO ESSENCE is also a paternal sister to Canadian Top Ten Futurity Gelding BOLD-N-BALOO, to multi-U.S. Top Ten Western Pleasure BALOO CABALLERO and multi-Canadian Top Ten Western Pleasure KYSS ME BALOO++/. BALOO ESSENCE is by Canadian Top Ten Futurity Colt and hunt pleasure champion MFA HULLABALOO. She is out of KO TSASHA, a paternal sister to WC TSASSI, dam of Canadian Top Ten Futurity Colt LC PSULYBRATION .

DREAMCATCHER DF is out of multi-halter champion DESPERADOS DEZIRAE. Desperado's Dezire has wins in Halter and Most Classic. Dezirae's sire DESPERADO V has 75 National winners to his credit through 2009. His National Champion get include National Champions in sporthorse halter, main ring halter, reining, trail, working cow horse, hunt pleasure, sporthorse under saddle, dressage, show hack, and western pleasure. 28 DESPERADO V get have produced National winners through 2009, and their National Champion get include National Champions in hunt pleasure, western pleasure, training level dressage, English show hack, sporthorse halter, and main ring halter.

Her dam DESERT LADY is by Legion of Merit winner TRIPLE-A BASKTYN++, a son of Canadian Top Ten Park BRUSALLY GWIAZTYN++ and a grandson of U.S. National Champion Stallion *BASK++. DESPERADOS DEZIRAE's dam is a paternal sister to Canadian Top Ten English Pleasure AOTR ZAKKAR-FADJUR++ and to Canadian National Champion Native Costume and Top Ten Show Hack SUR KEF++. With her disposition, conformation and pedigree, Ali will make a great show horse, broodmare or riding horse.ARLENE MAGID PEDIGREE RESEARCH

At her first and only show, Ali has won her first halter class at 3 months old! Ali hasn't been shown since she was a weanling.


Video Links:
Ali 3rd time under saddle in 2011
Aladdinn
Alada Baskin
Launa Basketu
Legacy of Gold
Fire Chief
Khatar Firesember
Zihala
Rhythm N' Gold
Fame VF
MFA Hullabaloo
Benraz Faantasy
Baloo Essence
Tsulybration
KO Tsasha
Regaloaksgalaneet
Bay El Bey
Huckleberry Bey
Taffona
Desperado V
Dar
Daraska
Holly Bask
Desperado's Dezirae
Brusally Gwiaztyn
Triple A Basktyn++
Arabesk
Desert Lady
Tre-Jur
Treshael
Ashael



Thank you for visiting Destiny Farm's site.