Dedicated to breeding beautiful, versatile, quality
Arabians, NSH & Pintos with
excellent dispositions.

Are you in someone else's frames?
Ride on out of there


Click photos for full size photographs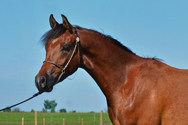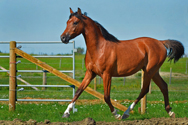 Stormy Solstice DF - CAHR pending
June 2011
Bay Arabian Gelding
Sweepstakes Nominated




Tweet
Share page on Facebook







(Dream Synsation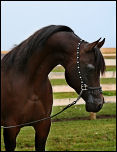 x DD Radiance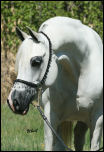 )
This is a Fabulous Gelding! He was born on the summer solstice and shortly after he foaled, a nasty stormy hit the farm so his name was easy. Stormy is well bred and has many champions in his pedigree close up. Stormy is upright, long neck, well-balanced body, beautiful tail carriage. He loves people and is quick to learn. He is sweepstakes nominated. Stormy has been started under saddle and is currently in training. He is very eager to please. Would make an excellent western pleasure, endurance, hunter, trail or all round pleasure horse.

Stormy's sire is a son of EF Kingston who is Reserve Champion stallion in Halter and AHA Endurance Nationals Top Ten and has completed over 500+ Endurance Miles. Stormy's dam, Radiance, had been used for jumping and endurance prior to becoming a broodmare.


*Padron
National Champion sire
Padron's Psyche
National Champion sire
*Kilika
EF Kingston
Aristo Kossak
The Dreamspinner
Myrilinan Acledo
Dream Synsation
*Ali Jamaal
National Champion sire
Magic Dream
National Champion sire
The Dreamspinner
Symphony ofdreams
Khemosabi++++
National Champion
Khaliope
Carinosa+/
*Ali Jamaal
National Champion sire
Parys El Jamaal
National Champion sire
*FF Pavielle
*Petrus Carol
National Champion
*El Shaklan
National Champion sire
Jur Jakleen
*Tezaborr
DD Radiance
Padrons Psyche
National Champion sire
Magnum Psyche
National Champion
A Fancy Miracle
*JJ La Estrella
Multi-International Champion Mare
Bey Shah+
National Champion sire
WA Marlaina
TB
Hanah Lee



Thank you for visiting Destiny Farm's site.