Dedicated to breeding beautiful, versatile, quality
Arabians, NSH & Pintos with
excellent dispositions.

Are you in someone else's frames?
Ride on out of there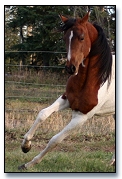 All That Jazz DF - CPAR #1A05645 & PtHA #125204
March 16, 2005 - Bay Tobiano
Sweepstakes Nominated



(Rhythm N' Gold
x Fancy By Design
)
This mare is sweet & STUNNING! She is Sweepstakes Nominated.

Harmony is a love bug. She loves people and wants to be the center of attention. Harmony needs a home where she will get a lot of attention and will be someones best friend.

This video is taken winter 2010 and is 3.3 MB in size. I do have larger and dial-up size videos.


Rhythm N' Gold

Legacy of Gold

Alada Baskin

*Aladdinn

Launa Basketu

Khatar Firesember

Fire Chief

Zihala

Baloo Essence

MFA Hullabaloo

Fame VF

Benraz Faantasy

KO Tsasha

Tsulybration

Regaloaksgalaneet

Fancy By Design

Whispering Winds Starheart Pride

Thunder's Flashy Renegade

Thunder Island

April Flirt

Starheart Radiance

Silver Lining Melody Man

Bourbon Stonewall Trixie

Pegan Lace

Canadian Exchange

Change About

Canadian Flame

Cherokee Dee

Unknown

Unknown



Thank you for visiting Destiny Farm's site.