Outstanding show prospect.

Maternal & Paternal siblings have US & Canadian National and Regional titles in:
Halter,
Western Pleasure,
Sporthorse in Hand,
Dressage
Hunter
Dedicated to breeding beautiful, versatile, quality
Arabians, NSH & Pintos with
excellent dispositions.

Are you in someone else's frames?
Ride on out of there




Stryking Synsation DF - CPAR
2017
Bay Tobiano 1/2 Arabian Colt
Sweepstakes Nominated




Tweet
Share page on Facebook







(Dream Synsation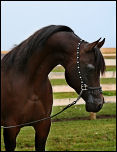 x Canadian Red Rose

)
Stryking Synsation DF (Drax) is a super sweet colt. He is going under saddle and has been ridden since March 2020. Trainer comments he is a gentleman. Drax is Sweepstakes Nominated. His full brother has titles in halter and western pleasure at regionals and Canadian Nationals.




Show Record for Maternal sister
2011 Canadian National Top 10 HA/AA Western Pleasure Jr horse
2011 Canadian National Top 10 HA/AA Western Pleasure AAO 18-39
2011 Canadian National Top 10 HA/AA Stock/Hunter AAO
2011 Canadian National Top 10 Ha/AA Western Pleasure AATR 18-39
2011 Region 17 Res Champion HA/AA Western Pleasure AO
2011 Region 17 Champion HA/AA Western Pleasure Jr Horse
2010 Canadian National Reserve Champion HA/AA futurity Filly
2009 Region 17 Top 3 HA/AA Mare AT
2009 Region 17 Top 4 HA/AA Mare Stock/Hunter
2008 WCB Unanimous Champion Yearling Filly

2008 CAHR Unanimous Champion Futurity Filly

2008 CAHR Unanimous Supreme Champion Futurity Halter Horse

2008 Region 17 Championships - Unanimous Champion HA Yearling Sweepstakes Filly


Show Record for Maternal Brother
2012 US National Top 10 HA/AA Futurity Gelding
2012 US National Top 10 Ha/AA Hunter Pleasure Futurity
2012 Canadian National Res Champion HA/AA Futurity Gelding
2012 Canadian National Res Champion HA/AA Sport Horse Gelding in-Hand
2012 Canadian National Top 10 HA/AA Sport Horse Geldings In-Hand AT
2012 Canadian National Top 10 HA/AA Gelding In-Hand Stock/Hunter