Congratulations to Cori Wilson on the purchase of this beautiful and unique filly!
We look forward to seeing her in the show arena.
Dedicated to breeding beautiful, versatile, quality
Arabians, NSH & Pintos with
excellent dispositions.

Are you in someone else's frames?
Ride on out of there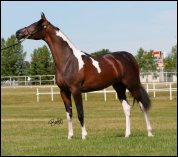 Born To Shyne DF - CPAR, PtHA
April 29, 2007
Bay Tobiano 1/2 Arabian
Sweepstakes & Canadian Futurity Nominated



(Shy Gayfeen+++//
x Canadian Red Rose

)
This filly is Sweepstakes Nominated, Canadian Halter Futurity Nominated and Parkland Futurity Nominated. Sire is multi-champion stallion, Shy Gayfeen+++// out of a homozygous tobiano sporthorse type mare. She is a wonderful combination of sire and dam and is already a multi champion filly.




Show Record
2008 WCB Unanimous Champion Yearling Filly
2008 CAHR Unanimous Champion Futurity Filly
2008 CAHR Unanimous Supreme Champion Futurity Halter Horse
2008 Region 17 Championships - Unanimous Champion HA Yearling Sweepstakes Filly




Seef
*Ibn Safinaz
Safinaz
Safeen
Imperial Madheen
Abitibi Madeena
Abitibi Maamouna
Shy Gayfeen++++/
Ruminaja Ali
The Minstril
*Bahila
Gayleen RCA
Shaikh Al Badi
SF Bint Saher
*Saher
Triple A Halarr
FF Wildfire
Flames Beauty
Ice-T
CF Bey Solitaire
CAHR
CF Cochara
CAHR
Kochanah
CAHR
Canadian Red Rose
Canadian Exchange
APHA
Turn About
APHA
Poco Waresse
QH
CF Canadian Maid
Spy Line
TB
Spy Lines Salute
TB
Saralyn
TB



Thank you for visiting Destiny Farm's site.