Dedicated to breeding beautiful, versatile, quality
Arabians, NSH & Pintos with
excellent dispositions.

Are you in someone else's frames?
Ride on out of there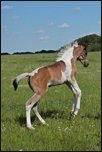 Eternal Fyre DF
CPAR 1A8681
May 19, 2021
Bay Tobiano 1/2 Arabian



Tweet
Share page on Facebook







(Spitfyre VF
x Canadian Red Rose
)
This filly is absolutely amazing and a keeper. Super sweet and flashy markings. We are excited that this is Canadian Red Roses last foal....and a filly from a long line of colts. LOL.

Baileys has very successful maternal brothers and sisters in Halter, Sporthorse, Dressage and Western Pleasure at the Regional, Scottsdale and National Levels. She also has brothers and sisters as pleasure riding horses in mountains.







Thank you for visiting Destiny Farm's site.