Congratulation Leslie Mohr! I'm sure Superstytion will make an outstanding Western pleasure horse for you.
Dedicated to breeding beautiful, versatile, quality
Arabians, NSH & Pintos with
excellent dispositions.

Are you in someone else's frames?
Ride on out of there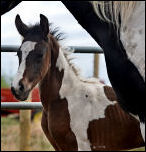 Superstytion DF - CPAR pending
May 13, 2011
Bay Tobiano 1/2 Arabian Gelding
Programs: Sweepstakes, Region 17 Futurity, Canadian National Futurity, Parkland Futurity Nominated



(Dream Synsation
x Canadian Red Rose
)
This is an awesome colt! He was born on Friday 13th so his name was easy. Superstytion comes from one of our best Sporthorse pinto mare, Canadian Red Rose. His maternal sister is 2010 Canadian National 1/2 Arabian Futurity Res Champion Filly! His maternal brother is 2012 Canadian National winner in Halter Futurity and Sporthorse In Hand as well as 2012 US National winner in Halter & Hunter Futurity. Superstytion is Sweepstakes Nominated and entered into Canadian Nationals, Region 17 and Parkland Futurities. The last three foals this mare has produced, have been over 16 hh so I expect his colt to be no different.

Just as expected, this is an outstanding individual. Superstytion DF has had a great show year as a yearling.
2012 Region 17 Unaniamous Champion Sweepstakes Half Arabian Colt/Gelding
2012 Region 17 Futurity Champion Half Arabian Colt/Gelding
2012 Parkland Futurity Champion Half Arabian Colt/Gelding.

Congratulations to Leslie Mohr and Superstytion on their wins!


*Padron
Padron's Psyche
*Kilika
EF Kingston
Aristo Kossak
The Dreamspinner
Myrilinan Acledo
Dream Synsation
*Ali Jamaal
Magic Dream
The Dreamspinner
Symphony ofdreams
Khemosabi++++
Khaliope
Carinosa+/
Triple A Halarr
FF Wildfire
Flames Beauty
Ice-T
CF Bey Solitaire
CAHR
CF Cochara
CAHR
Kochanah
CAHR
Canadian Red Rose
Canadian Exchange
APHA
Turn About
APHA
Poco Waresse
QH
CF Canadian Maid
Spy Line
TB
Spy Lines Salute
TB
Saralyn
TB



Thank you for visiting Destiny Farm's site.